---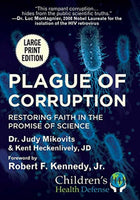 Plague of Corruption: Restoring Faith in the Promise of Science (Children's Health Defense)
#1 on Amazon Charts, New York Times Bestseller, USA Today Bestseller—Over 100,000 Copies in Print!

"Kent Heckenlively and Judy Mikovits are the new dynamic duo fighting corruption in science." —Ben Garrison, America's #1 political satirist

Dr. Judy Mikovits is a modern-day Rosalind Franklin, a brilliant researcher shaking up the old boys' club of science with her groundbreaking discoveries. And like many women who have trespassed into the world of men, she uncovered decades-old secrets that many would prefer to stay buried.

From her doctoral thesis, which changed the treatment of HIV-AIDS, saving the lives of millions, including basketball great Magic Johnson, to her spectacular discovery of a new family of human retroviruses, and her latest research which points to a new golden age of health, Dr. Mikovits has always been on the leading edge of science.

With the brilliant wit one might expect if Erin Brockovich had a doctorate in molecular biology, Dr. Mikovits has seen the best and worst of science. When she was part of the research community that turned HIV-AIDS from a fatal disease into a manageable one, she saw science at its best. But when her investigations questioned whether the use of animal tissue in medical research were unleashing devastating plagues of chronic diseases, such as autism and chronic fatigue syndrome, she saw science at its worst. If her suspicions are correct, we are looking at a complete realignment of scientific practices, including how we study and treat human disease.

Recounting her nearly four decades in science, including her collaboration of more than thirty-five years with Dr. Frank Ruscetti, one of the founders of the field of human retrovirology, this is a behind the scenes look at the issues and egos which will determine the future health of humanity.
Return this item for free
You can return the item for any reason in new and unused condition: no shipping charges. We will provide you with a return shipping label and the address of a local kiosk where you can drop off the item with its original packaging. Contact us at support@immuneboostnaturals.com for details within 30 days of the delivery date.

corruption!!
this is what they are doing to anyone, not just drs, researchers, scientists, that do not tow the party line. mikovits was right! follow the money people!!
A young hopeful found out different
There is a problem when quality is muted or obfuscated(hidden) and that particular ability is superseded by interests that are not in keeping with either a right to know or perhaps more compelling would be that the truth or a truth is denied. This is in part how we learn by knowing a material fact as truthful or a truth as a material fact. yet however basic such a consideration seems to be we are told here by Judy Mikovits that there is put forward that the crime scene as it concerns a right to know will most certainly have three sets of Fingerprints on any and all interests where such a breach of faith has occurred. Judy Mikovits names that these names will leave their fingerprints on any such claim(Ms. Mikovits calls it a crime scene). These persons are an entrenched obstacle that Ms. Mikovits has much to talk about. There is such a truly extended argument testified to by Ms.Mikovits that it deserves to be listened to, it is what I found so compelling. The Right to know is a most useful perception of justice that there would seem to be a good cause associated with Ms. Mikovits's argument however we learn over the course of this presentation that we have hardly been made aware of what has occurred. The more serious complication that has seemingly engulfed the scientific life of Ms.Mikovits is that the information is without measure a most serious confrontation of what the established narrative is and as suggested earlier the Truth or as suggested a Truth. that such a narrative is fraught with misleading information and downright lies. There is something of a "Good Ole Boys" network that in so far as the discoveries put forward by Ms. Mikovits these entrenched interests have what I believe is equal to having a bad effect. This though is more than merely a damaged landscape this is about a need to know the science as this astute scientific mind of one Judith Mikovits has information, that is data-driven and compelling, yet this information was blocked and thus far it has not really seen the light of day. The story told through this telling account can only make someone wonder how in the world could such interests rule much of anything yet these as it were interests are such an opposite that their place is as a false ideology, that is how far afield this story tells of. This story tells of suffering both of a very personal nature and to perhaps the most vulnerable, it must be said are the American people and even more so other people as these matters cross all borders, to be certain I do not think I would be here if this wasn't a most serious matter. The matter ultimately as this opinion puts forward is that without some true idea as it concerns perhaps the light of day or put bluntly a right to redress wrongs this is about failure. That such is in need of a restoration is something of a deeper care and that is that these entrenched interests have caused not only suffering here about but elsewhere as well. This experience earmarks a value that will not include this world. It does also make note that children, persons as such almost in general are not a beneficial result that such an association might require. This effect has indeed had a bad effect and its tremors can still be felt today. Ms. Mikovits is not fooling around and many would not be shortchanged with this discussion and narrative. This is serious and it should be thought of as just that a serious affront to the investigation of science.
Before we can restore faith in science we have to know how it was lost. Who betrayed us and why.
I have read Kent Heckenlively's previous book "Inoculated", as well as his book "Plague" which was cowritten with Dr Judy Mikovits. I was eagerly awaiting this new book "Plague of Corruption". It is incredibly important work that you cannot get anywhere else. The internet is wiped of material that is contrary to the status quo of government and industry. Censored. Industry seeded trolls are everywhere. You have to seek this information out in books to get the full picture and understand how we got exposed to retroviruses. How it happened. And what does it mean for us? Dr Judy Mikovits is in the unique position of having worked within the [corrupt] world of academic research - she discovered something potentially dangerous and embarrassing to the government/pharma - and had her personal life disrupted and her professional life destroyed.
We have a very ill population. Autoimmune diseases and cancer, heart disease and diabetes - and everyone pretends not to know what is causing this. And yet, we INTENTIONALLY perturb the immune system of every man, woman, and child in this country from cradle to grave. Over and over again. We inject material that is toxic. Knowingly toxic ingredients. And then when we connect those dots we are met with extreme denial. Denial without any evidence provided. It is hard to believe we have allowed it this long. Sure, we know mercury and aluminum are heavy metals that are not healthy for the body - but our scientists assure us that they are not dangerous. But more important than even the heavy metals are the contaminants that got in there from growing viruses in animals and picking up other things not intended and not purified out. How can you purify something you don't even know is there? This is how we got SV40 - a monkey kidney viruses that causes cancer and went out in the polio vaccine. This is how we got XMRV - a retrovirus implicated in Chronic Fatigue Syndrome that came from passing virus through mouse brains and contaminated cell cultures. What else is hiding in those lab created cell cultures intended for injection into humans?
We are all suffering now from the mistakes made from our "scientists" in the past who rushed into production on pharmaceuticals for public consumption without the proper safety measures. They fail to present us with sufficient evidence that these materials are fully safe and effective. They demonize anyone who inquires about it, and bury the evidence of harm that they do find. This is the definition of corruption.
This book gives you a glimpse into the world of the institutions and characters who have been involved in making public policy. How financial and political interests are more important that the truth about what scientists like Dr Mikovits are finding. I am not as hopeful as Kent & Judy that the "faith in science" can be restored. Because the perpetrators will never come forward and admit what they did. They hold entrenched positions in government agencies and would rather burn the evidence than admit that they poisoned the human population and withheld from us out of hubris, corruption, and greed.
I am so grateful to Robert F Kennedy Jr for taking up the topic, writing the Forward, and not being intimidated by the opposition. And to Kent and Judy for their collaboration that makes this difficult topic so easy to understand. There is a lot of scientific language but the writing makes it very accessible to the reader. Science is just a matter of terms and processes that anyone can learn. Never let someone tell you that the "science" is too complex for the average person. We get it.
This book is very timely! As it is released we are fighting the first "pandemic" of our modern age. And we watch another retrovirus enter the human population to cause who knows what kind of havoc. We are watching how those very same characters and institutions who habitually hide information from us try to come across as believable and trustworthy. We desperately need the knowledge and insight of Dr Judy Mikovits to understand and go forward. I hope she is invited to be part of the Presidents's advisors. I can think of no better person to help us through this confusing and dangerous times. Get the book. Read it. Become part of the red pilled force that is growing every day.