---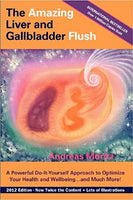 The Amazing Liver and Gallbladder Flush
In this greatly expanded edition of his international bestseller, Andreas Moritz reveals the most common but rarely recognized cause of illness - gallstones congesting the bile ducts in the liver. Besides leading to gallbladder diseases and gallstone attacks in at least 20 million Americans each year, in many cases, liver bile duct congestion sets the stage for even more serious, seemingly unrelated, conditions, including obesity, diabetes, heart disease, and cancer. Most adults living in the industrialized world, and especially those suffering a chronic illness, such as irritable bowel syndrome, heart disease, arthritis, multiple sclerosis, cancer, or diabetes, have in fact hundreds if not thousands of gallstones (mainly clumps of hardened bile that escape detection for they are invisible to x-rays, ultrasound, and CT scans) blocking the bile ducts of their liver. This book provides a thorough understanding of the liver and its complex functions, what causes gallstones in the liver and gallbladder, and why these stones can be held responsible for the most common diseases so prevalent in the world today. It provides the reader with the knowledge needed to recognize these stones and gives the necessary, do-it-yourself instructions to painlessly remove them in the comfort of one's home. Packed with images, the book also gives practical guidelines on how to prevent new gallstones in both the liver and gallbladder. The liver and gallbladder flush (cleanse) has led to extraordinary improvements in health and wellness among millions of people who have already given themselves the precious gift of a strong, clean, revitalized liver. Besides providing the practical procedures to cleanse the liver, gallbladder, kidneys, and intestines, Moritz explains in great detail the origin of all types of common diseases and how to prevent or reverse them naturally. The book is packed with precious, time-tested approaches designed to return the body to a permanent state of balance and vitality; it includes a complete program of healthcare, which is primarily based on the ancient medical system of Ayurveda and the vast amount of experience Andreas Moritz has gained in the field of health restoration during the past 30 years. Moritz is the author of 15 groundbreaking books on natural health and a leading, internationally recognized, authority in the field of integrative medicine. 
100% MONEY BACK GUARANTEE: If you are not satisfied with your purchase, contact us at support@immuneboostnaturals.com within 30 days of delivery to return or replace this item.
Life changing information
I found this book recommended on TikTok. And I have to say, doing the Liver Flush has really turned my health around in a positive direction. I now recommend this to everyone I know who has health issues.
Life-Changing
This is a long long overdue review.
To put it simply, the title of this book does not do justice. If it sounds like one of those commercial hypes, it couldn't be further from the truth.
- and -
This book is more than about the liver flush ( if you are not familiar with this, you could easily find more information online ).
Firstly, this book contains information about why the body may start to exhibit symptoms ( from a perspective of appreciation and respect for the body ) - really, the body is always working for you, and is trying his / her best for you.
Just finished my 16th flush! Wanted to share my experience!
I don't normally write reviews but I felt that this is an important one to write! These flushes are absolutely legit and completely worth it as long as you are willing to make the commitment.
My first flush was Jan 3rd, 2021 and my experience has been a bit different than the reviews I see here. In the book it's written that you may not release stones the first time and you may experience nausea if everything is in too much of a toxic state and boy was that the case for me!
My first cleanse was very intense, nausea began about 2 hours after drinking the cleanse and I spent hours and hours vomiting well into the next day. I didn't get even a moment of sleep. And then to top it off, I literally released one single barely pea sized stone. The next morning I drank the first dose of epsom salt at 6am like the book says and had to FIGHT to keep it down. I was so nauseous I couldn't drink the final 8am dose. I was nauseous all the way up to noon that day. Needless to say there were lots of tears with that first cleanse I was so uncomfortable and had nothing to show for it!! And I followed everything exactly as it said!
When I started the cleanses I was very sick with chronic illness and the 24/7 pain I felt below my rib scared me so much. Whenever I would bend over slightly I felt like I was squeezing the discomfort and it would feel like something was going to pop. Fortunately, once I set my mind to something like that I do not give up! A month later I did the cleanse again, and I wish I could say it was better but it wasn't really. I was up sick all night long without a wink of sleep completely exhausted, only difference was that I was able to drink both of the morning epsom salt doses. Once again though, I didn't really release any stones. It was so frustrating because this cleanse made me so incredibly unwell and I would be so incredibly weak and exhausted the next day only to get what to me looked like no results.
This pattern continued until my FIFTH cleanse! I was determined to keep going even without getting the results I wanted because I just knew if I kept trying I just had to eventually release something! My 5th cleanse was sooooo incredibly satisfying I could cry! I released around 350 stones in varying sizes up to the size of a nickel!
I was still getting very sick and would be up all night vomiting with each cleanse but I consistently released a satisfactory amount of stones with every cleanse from the 5th one and onward! My 8th cleanse was my first cleanse where I started to get some sleep, my all night nausea session turned into about a 3 hour window which was sooo much better to deal with! The discomfort below my ribcage which is what got me to start the cleanse in the first place remained until my 11th cleanse, pretty much immediately after the 11th cleanse the discomfort finally went completely away!! I feel totally normal under my ribs now! My vomiting sessions also lessened to about a 2 hour window after that! My 13th cleanse was my first cleanse where I did not vomit at all! So it took over a year of cleanses for me to stop getting sick. I felt nausea but didn't ultimately vomit. And then my 14th cleanse had zero nausea! I slept right through the night and felt normal in the morning! I couldn't believe it! This last cleanse (#16) I did wake with some mild nausea in the night but it was so mild I didn't even feel the need to move and just fell right back to sleep.
It's clear that I had a very toxic system and I also had years of chronic illness to show for it. I'm doing amazing and can eat whatever I want now! This cleanse has helped me a lot but I don't think I would be as far along in my recovery as I am if I hadn't combined this cleanse with a program called DNRS (Dynamic Neural Retraining System), if you've had chronic illness please look into that program because I know that so many people will benefit from it.
This cleanse is amazing and I will continue to do it until I am completely clear. I have tried to count my stones and I am up to approx 5,747 stones released! Also the thing about the stones being the olive oil/citrus combo itself is incredibly false considering I've vomited the bulk of the cleanse back up during most of my cleanses!!! Fortunately the stones are released in the first half hour after drinking the cleanse since I've always kept it down for at least that long so the cleanse still worked very effectively for me! I even released 1,000+ in one session before! And I have not seen an increase in the stones I release since I've been keeping it down either. In fact, I've been releasing less than I was when I was vomiting! But still a satisfactory number!
This has been incredibly worth it, I am amazing every day at how much my digestion has improved and also that I feel like I have a normal rib cage and abdomen now! This cleanse and DNRS are the best commitments I've made! It has been challenging but in the hardest of times I just kept reminding myself that I'm doi...